Our Scholarship Feed page is designed to give you an all-in-one view of every scholarship we have been contacted about.  Most of our scholarships listed are scholarships just waiting for you to apply!
  Scholarships are posted by month as soon as we get them.
Scholarships are listed by the deadline date.
Scholarship forms can be found in the Guidance Counselor's office or the COOL College Advisors' offices.
For the Community Foundation Scholarship Application, please click here:
For the AEF Scholarship, please click here:

---
February
---
Hispanic Leadership Council Scholarship
Amount: $500- $1,500
Criteria:
-Be Hispanic and/or of Hispanic descent and a U.S. citizen or a legal resident.
-Apply to an accredited college, university or trade school by the time of this application.
-Be a full-time student (a minimum of 12 hours per semester)
-Have earned at least a 2.5 GPA
-Reside in a county serviced by Region 14 Service Center.
Deadline: February 15, 2018
Application: https://acuadmissions.wufoo.com/forms/q159wo460ac7fn7/
---
Vegetarian Resource Group Scholarship
The Vegetarian Resource Group each year will award $20,000 in college scholarship money to graduating U.S. high school students who have promoted vegetarianism in their schools and/or communities. Vegetarians do not eat meat, fish, or fowl. Vegans are vegetarians who do not use other animal products such as dairy or eggs.
One award of $10,000 and two awards of $5,000 will be given. Entries may only be sent by students graduating from high school in SPRING 2018.
Deadline is FEBRUARY 20, 2018.
We will accept applications postmarked on or before FEBRUARY 20, 2018. Early submission is encouraged.
Applicants will be judged on having shown compassion, courage, and a strong commitment to promoting a peaceful world through a vegetarian diet/lifestyle.
For more information and for the application, please click the link below.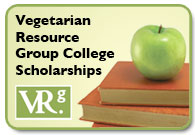 ---
GT Scholarships
Adelle McClendon Young Leaders Scholarship ($2,500) • Awarded to a graduating high-school senior toward college tuition • Applicants must have demonstrated outstanding leadership
Laura Allard Future Vision Scholarship ($2,500) • Awarded to a graduating high-school senior toward college tuition • Applicants must have outstanding academic achievement, a strong sense of purpose, clearly defined goals, and a long-term plan for achieving them
Scholarship Application Information • All TAGT scholarship applications must be submitted by February 23. • Applicants in public schools must be currently identified as gifted and receiving services in a gifted program. Verification by a campus G/T specialist, G/T classroom teacher, counselor, or district G/T coordinator is required before an award is finalized.
For rules and to Apply: http://www.txgifted.org/scholarships
Deadline: February 23, 2018
---
 

March
Dyess Spouses Scholarship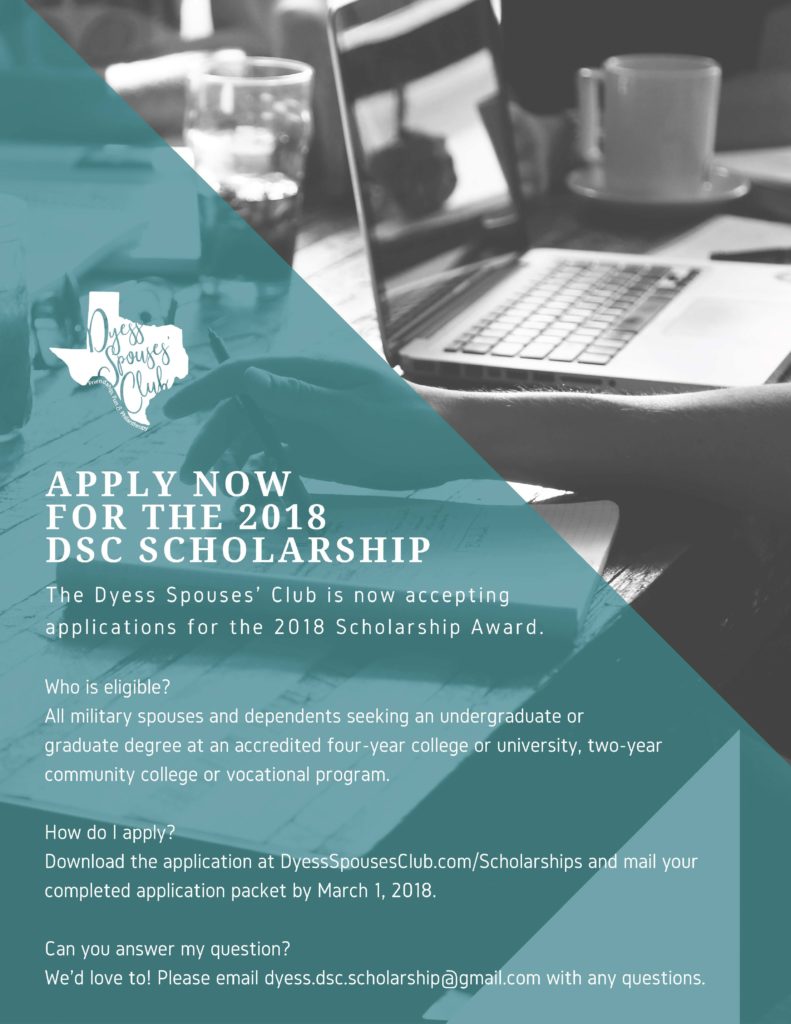 ---
Texas Farm Bureau Scholarship
Amount: Varies
Criteria: Graduating High School Senior
Application: texasfarmbureau.org/youth/youth-opportunities/
Deadline: March 1, 2018
---
FORT WORTH SCOTTISH RITE FOUNDATION SCHOLARSHIP
AMOUNT: Fifty (50) scholarships for $1,500.00. Five (5) of these scholarships will be set aside for students who will be attending a community college
CRITERIA:    Graduating high school senior; merit/student achievement based.
APPLICATION: www.fortworthscottishrite.org or counseling office
DEADLINE:  March 1, 2018
---
West Texas Geological Society Scholarship
Amount:  ranges from $2500.00 – $5,000.00
Criteria: High school seniors and college students are encouraged to apply for one of many earth science scholarships. All students pursuing careers in the earth sciences are eligible to apply ( earth science, environmental technology, or petroleum engineering, etc.)
Applications: www.wtgs.org
Please note this is a digital form.  You should be able to download and type into all the blanks the appropriate information or you are welcome to print the form and fill-out the information by hand. You must hand write the essay, then sign the form prior to applying.
Deadline: March 1, 2018
---
Abilene Education Foundation Scholarship
Amount: Varies
Criteria: Graduating Abilene ISD Senior
Application: Here
Deadline: Early Bird – March 2nd
Final Deadline – March 23rd
---
TEXAS TELEPHONE ASSOCIATION FOUNDATION SCHOLARSHIP
Amount: (6) four year scholarships @ $2,000.00 per year
Criteria: U.S. Citizen; Senior with a GPA of 3.0 or higher; planning to attend TEXAS college or university in the fall of 2018
Application:2017 TTAF Application and Letter
Deadline: March 30, 2018
*AHS can only nominate 2 students-per counselor- for this scholarship. Special consideration is given to students pursuing a degree in math, business, education, technology, engineering, computer science, etc.
COOPERATIVE RESPONSE CENTER (CRC), Inc. Scholarship
Amount: up to six $1,000.00
Criteria: Senior students attending public or private high school with good academic standing and a GPA of 3.0 or higher. Must have completed the SAT or ACT test and plans to enroll full-time at a college or trade school. This does include the sons and daughters of employees of CRC.
Application: contact Julie Schramek at info@crc.coop or 507-437-2304 or come to counselor's office
Deadline: April 2, 2018
* To learn more about CRC, visit www.crc.coop
---
Junior Achievement – Abilene Scholarship
Amount: Varies depending on school (ACU – $10,000, HSU & McM – $6,000 all paid over 4 years)
Criteria:
1.  Must have completed a Junior Achievement program during high school in the Abilene area.
2. Must have submitted this application with a high school transcript and SAT/ACT score.
3. Must have GPA of 3.0 or higher throughout high school.
4. Finalists must participate in an interview with the JA Scholarship committee.
Application: Here
Deadline: April 15, 2018
---
May
TEXAS INTERSCHOLASTIC LEAGUE FOUNDATION SCHOLARSHIPS
Amount: Ranges from $500-$20,000.
Criteria: Must have competed at the UIL Academic State Meet OR qualify as an Outstanding Soloist at the Texas State Solo and Ensemble Contest (TSSEC) at least once in their high school career; must have been accepted to an accredited college or university in Texas; enroll full time and maintain a 2.5 GPA; must have taken the SAT or ACT; must be graduating this year.
Application: www.tilfoundation.org
Deadline: on-line applications accepted March 1, 2018 to May 11, 2018.